The ladies over at
Sew It To Me
were so kind to wait for me to put together a
tutorial
for my cash and coupon organizer.
They are featuring that tutorial on their site today! I am so excited!!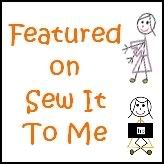 You definitely need to check out their blog! They do features all the time of some amazing sewing and non sewing ideas! And pretty soon they will have a giveaway! Maybe I should donate a cash organizer to the giveaway!
Happy Friday-well to me-no work tomorrow. For the rest of you, Happy Thursday!